Get up and running in as little as 72 hours!
We have 3 simple steps:
Step 1: Buy Your Server from The Server Store
You'll work with The Server Store to custom build a server. They'll help you find the optimal hardware, as well as get the right colocation and bandwidth package.
Visit The Server Store
Step 2: Rack & Stack
We'll ship the server over to the data center. We'll rack, stack, run fiber, and power up your server. No inbound tickets, no remote hands fees - you don't have to worry about a thing.
Step 3: Server is Ready to Go!
You'll get access to our Client Portal, which allows you to deploy an Operating System and manage your server from the click of a button.
Colocation Specifications
What's Included
1 IPv4 + IPv6 /64
Firewalled IPMI IP Address
10TB Bandwidth over 2x 1Gbps LACP
Free Level 1 Remote Hands
Facility Qualifications
Tier III Data Center
SSAE 16 SOC 2
HIPAA, PCI DSS Compliant
2N Power Availability
Network
Cogent, HE, Level 3, IX, & more
300Gbps Capacity (and growing)
100% Juniper and Arista
AS 396073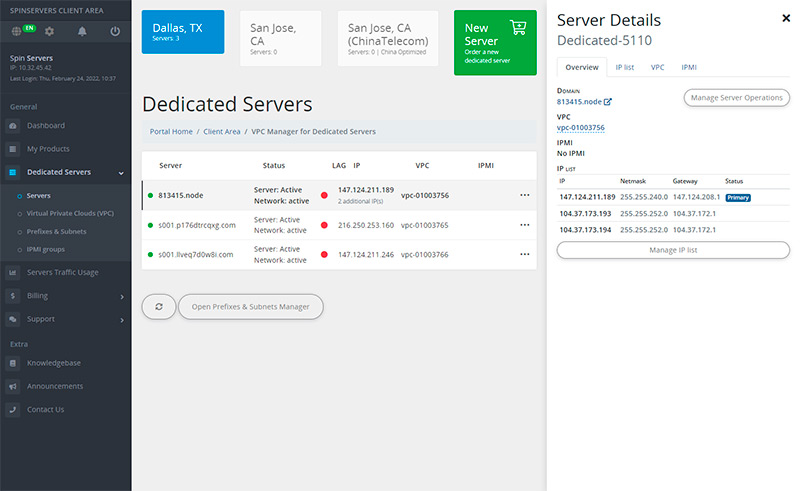 Client Portal Features
Our Client Portal gives you access to manage every aspect of your server, including:
Operating System
Power On/Off/Cycle
IPMI/iKVM
IPv4, IPv6, and loading your own prefixes
Virtual Private Cloud (VPC)
FAQ's
Here are the most common questions we hear. If we haven't answered yours, give us a call or use the chat box!
How fast is your colocation ready?
Our space and power is ready to go! Once your server hardware is ready, we can have you up and running within 24 hours notice. Don't deal with red tape from the large data center providers.
Do you only offer colocation for servers purchased from The Server Store?
As of now, yes. We only offer colocation for servers that you purchase from The Server Store. We keep spares onsite and are trained in dealing with certain models.

If you have other server hardware you'd like to colocate, feel free to still reach out.
What do you charge for remote hands?
Level 1 Remote Hands is free. This includes most external functions, such as power reboots, hot swaps, checking an LED indicator, etc.

Servers that are still under warranty from The Server Store have no remote hands cost, either! You'll get free hands if you need to replace a part on any server that's still under warranty.

Beyond this, we bill remote hands at $125/hour in 15 minute increments.
How long is your colocation contract?
Our minimum colocation contract is 12 months, paid monthly.
Do I have access to my server in your data center?
If you are co-locating a single server, no. Your server is in a shared cabinet, and we'll manage your server for you.

For colocation deployments of an entire rack cabinet (or larger), we can provide you with supervised access to your cabinet.